Volcanoes & Tastes of Hawaii
Tuesday 10/31/23
61/2 hrs.
Estimated Duration
(Detals from NCL)
See how the 2018 eruption of the Kilauea volcano dramatically changed the landscape of the Big Island and pause along the way to sample iconic Hawaiian products. Rainbow Falls will serve as an introduction to the island's natural beauty, which is even more spectacular at Hawaii Volcanoes National Park, Hawaii's only UNESCO World Heritage site. There, you will enjoy a close-up view of how the volcanic eruption expanded the Halemaumau pit crater with a billion cubic yards of lava. As you walk across the now hardened lava field, you will notice new greenery that will eventually become rainforest. The island's fertile volcanic soil is ideal for growing products such as macadamia nuts. You will be offered tastings of them – perhaps honey-roasted or dipped in chocolate – at the Mauna Loa Macadamia Nut Farm. A Hawaiian-style lunch follows at
Volcano Gardens Arts. Confections and coffee are available at Big Island Candies.

HIGHLIGHTS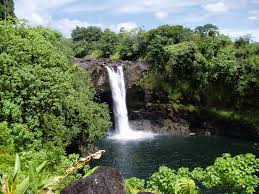 Rainbow Falls - Hilo
• Behold Rainbow Falls, which is named for the rainbows
that often form in its mist.
• See how a 2018 volcanic eruption changed the
terrain in Hawaii Volcanoes National Park.
• Walk across a hardened lava field from the eruption,
where plants are now growing.
• Enjoy a lunch of traditional Hawaiian cuisine and
sample iconic Hawaiian products.
HELPFUL HINTS
• Dress in weather-appropriate clothing.
• Wear flat comfortable walking shoes.
Need to Know:
Note: Participants must be at least 8 years of age.
Lunch includes freshly made wraps (including vegetarian), island fresh fruit, homemade "purple" potato salad,
macadamia nuts, assorted snacks, aloha fruit drinks
and bottled water. Natural sulfur gases may affect those with respiratory problems. Tour itinerary may change
due to weather or volcanic activity.
NOTE:
IF YOU'RE INSTERESTED IN THIS HILO TOUR
JUST TELL DONNA AND SHE'LL PUT YOU ON THE LIST